Feature: With Bags, Cartoon,With Spoons or Chopsticks,Thermal Insulation, Leakproof, Eco-Friendly
Material: Stainless Steel
Shape: Rectangle
Lunchbox electric: lunchbox electric
Lunch box electric stainless steel: Our original model has now been upgraded to stainless steel
Portable lunch box electric car heating: electric lunch box 12v
Electric lunch box 110v: electric lunch box 110v and 220v depending on geographic location (and outlet type selection)
Perfect car food warmer for car travel snackisfaction.You can start warming your lunch while you're driving to work!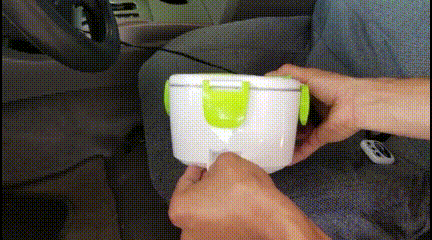 HOW TO USE
1. Heating food just needs approximately 10-20 minutes (depending on food type). Your Electric Lunch Box comes with two plugs: One for home and/or office usage along with one plug for your car or truck.
Why you should buy this? 
Using high temperature resistant environmental materials.
Stylish and fashionable appearance, without odor and healthy.
The steam device is designed as a round cover, keeping the food fresh.
The use of PTC heating elements is safer, more convenient and energy-saving.
The design of recycle heating in low power keeps the food warm and fresh.
Dual-function for heating and warm keeping.
Colors available: BLUE, RED, GREEN, PINK
Size: 238 x 170 x 108mm
Model: WDL-FH004
Power: 40W
Voltage: 12v~24v
Capacity: 1.1L - 1.2L
Adapter length: 84cm
HOW TO CLEAN
Cleaning is entirely simple:
First, simply remove the top cover and proceed to take apart your Electric Lunch Box.
PLEASE NOTE: Be certain that all electrical cords are unplugged from and electrical or car outlet. Lastly, it's important to ensure that all lunch box outlet ports are properly closed before washing.
WHAT'S INCLUDED
1x Lid
1x Heat-Safe Spoon
1x Main Compartment
1x Side Compartment
1x Heating Base
1x Electrical Cord (for home or office)
1x Vehicle Cord
1x Instruction Manual
DISCLAIMER & IMPORTANT INFORMATION
PLEASE DO NOT attempt to substitute any base, part or cord with your COBABAY Lunch Box. The included items that come with your order are the ONLY items recommended for use. 
PLEASE DO NOT attempt to dis-wash or submerge your COBABAY Lunch Box in water.
COBABAY logo may not be included on your lunch box.